Sport - NCAA-Football
Who will replace Mike DeBord as Vols OC? Here are four guesses
Per GoVols247 and our affiliate in Knoxville (WBIR), Tennessee Vols offensive coordinator Mike DeBord has decided to take the same position for the Indiana Hoosiers.
Tuesday, January 3rd 2017, 2:08 PM EST
Updated:
Tuesday, January 3rd 2017, 4:40 PM EST
Per GoVols247 and our affiliate in Knoxville (WBIR), Tennessee Vols offensive coordinator Mike DeBord has decided to take the same position at Indiana. DeBord will join new Hoosiers Head Coach Tom Allen's staff. Allen was promoted from his defensive coordinator position following the dismissal of Kevin Wilson (who was fired over allegations of player mistreatment). DeBord took over as OC prior to the 2015 season, replacing Mike Bajakian. The Vols saw steady improvement under DeBord in his two seasons on Rocky Top, finishing in the SEC's top 5 in scoring offense each year, and finishing in the SEC's top 5 in total offense (averaging 443.7 yards per game) for the first time since 2012 this past season.
Tennessee loses many of the key contributors that made them so successful on that side of the ball the last two seasons (including Joshua Dobbs and Alvin Kamara), and with them failing to meet some of the lofty 2016 expectations, the pressure is on head coach Butch Jones and the Vols to make the right decision. 
So who will replace Mike DeBord? Here are four guesses:
Mark Helfrich (Former Oregon Head Coach)
 Although Mark Helfrich was dismissed as the Oregon Ducks head coach following the 2016 season, do not let that  deter you. Helfrich has overseen some of major college football's most explosive offensives in the last decade; first as the  offensive coordinator at Oregon, and then as the head coach. During his time as OC (from 2009-12) the Ducks were  arguably the best offensive in the country, ranking third or better nationally in scoring offensive each season from 2010-12,  and fifth or better nationally in total offensive over that same time span. That run of success as an offensive juggernaut  continued after Helfrich was promoted to head coach, as they ranked fifth or better nationally in both scoring and total offense in each of his first three seasons. All-in-all, the Ducks averaged 43.5 points per game and 518.1 yards per game during Helfrich's eight seasons on the coaching staff. He does not have any ties to the area, and has never coached in the SEC, but with an offensive background like that, he has to be on Tennessee's radar. 
Larry Scott (Tennessee Tight Ends Coach/Special Teams Coordinator)
 Larry Scott has only spent one year on the Vols coaching staff, but has spent a significant amount of time as an offensive  assistant throughout his career prior to coming to Knoxville. Scott spent much of 2015 serving as the interim head coach for  the Miami Hurricanes after Al Golden was fired. He led the Hurricanes to an impressive 4-1 finish before losing to  Washington State in the Sun Bowl; Miami averaged 392 yards per game during Scott's six games as the interim head  coach. In 2014 as the tight ends coach at Miami his tight ends caught 52 passes for 833 yards, and the Vols saw steady  improvement from their top two passing catching tight ends (Ethan Wolfe and Jason Croom) throughout the 2016 season.  Larry Scott has 15 years of coaching experience, and has coached in eight bowl games. 
Tee Martin (Southern Cal Offensive Coordinator/Wide Receivers Coach)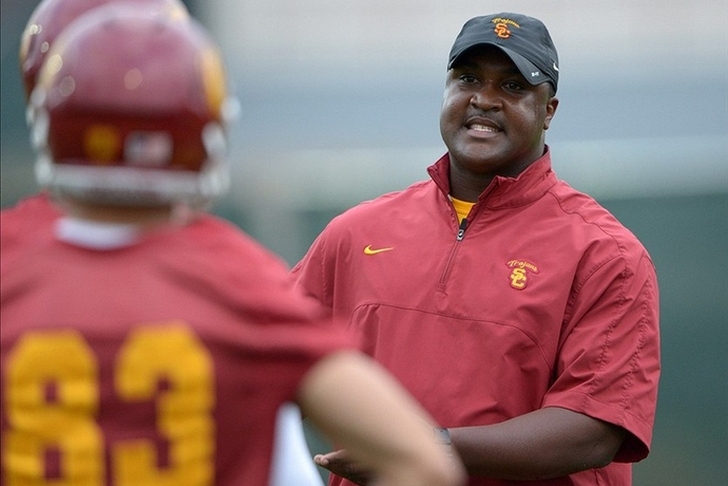 For obvious reasons, Tee Martin holds a special place in Tennessee Vols' fans hearts, and a homecoming to his alma  mater would be a popular hire. Since quarterbacking the 1998 Vols to the BCS National Championship, Martin has  established quite the coaching career, and just finished off his first full season as the offensive coordinator at Southern Cal  with an incredible 52-49 Rose Bowl victory over Penn State. Martin's Trojan offensive flourished down the stretch this  season after inserting QB Sam Darnold into the starting lineup. Following the move to insert Darnold, USC averaged 523.3  yards of total offense per game, and won their final nine contests. Martin has served as the wide receivers coach during his  entire tenure at USC, and served in the same role at Kentucky in 2010-11 prior to that. During that time Martin has overseen four 1,000+ yard receivers, and 12 receivers with 50+ catch seasons. Tee Martin was initially offered a job as an assistant on Butch Jones' first staff in December of 2012, but declined the offer to stay at USC. 
Billy Napier (Alabama Wide Receivers Coach)
 Billy Napier is a more off-the-radar candidate that could/should generate some consideration for some offensive coordinator  positions. Napier (now 36) became the youngest offensive coordinator (age 29) in school history at Clemson in 2009, and  overseeing an offensive lead by ACC Player of the Year CJ Spiller, helped lead the Tigers to a then-school record for total  points scored in a single season. Napier was fired by Dabo Swinney after the 2010 season, when the Tigers fell to 6-7.  From that point forward Napier's career has been building back towards getting another shot as a coordinator, as he has  spent the last four seasons as the wide receivers coach for the Alabama Crimson Tide. During that time Napier has  coached the likes of Amari Cooper (who set an SEC single-season record with 124 catches and was the 2014 Biletnikoff  Award winner), and most recently All-American Calvin Ridley. 
Brooks Carter is a the host of the PrepsOn3 Spotlight, and is a sports writer covering Prep Sports and the SEC for WRCB-TV. You can follow him on Twitter @BrooksACarter. Sports Director Paul Shahen contributed to this story.